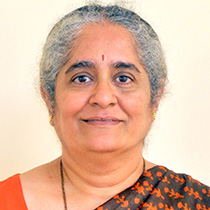 Dr. Nilima Bhadbhade
She has more than 32 years of teaching experience. For more than 30 years she worked as Associate Professor at ILS Law College. Her areas of interest include Laws of Contracts, Property, Evidence, Insurance, Advocacy Skills. She has to her credit number of publications.
Click Here for publication of Books and articles.
Her other articles and works are available on her page : http://ilslaw.academia.edu/NilimaBhadbhade and https://marathilegalterms.wordpress.com/ .
Awards & Special Achievements:
Member of the Expert Committee appointed by the Government of India, Ministry of Law and Justice, to examine the Specific Relief Act 1963 and to make suggestions for amendments.
Member of Research and Recognitions Committee in the Faculty of Law of the Symbiosis International University, Pune, as Subject Expert.
Member of Board of Studies / Academic Advisory Council of the National Insurance Academy, Baner, Pune
Trained at Cardiff Law School, Cardiff, Wales in a programme under the auspices of British Council.