Center for Public law at ILS is a platform that is established to disseminate thorough knowledge and develop critical thinking of Public Law among students. It was formally inaugurated on 30th July 2009 by the Director of ILS Law College, Mrs Joshi, Director of Indian Law Society (then Principal of College) and Dr Sanjay Jain, faculty coordinator and currently as Additional Charge of Principal of ILS Law College, Pune.
The principal objectives of the Centre are:
To promote Constitutional studies through innovative means
To hold short courses, conferences and seminars on contemporary developments in public law
To impart knowledge of Public Law through research-oriented activities involving students, and going beyond traditional classroom teaching methods.
The Centre has also brought various student initiatives to bring these objectives into action such as the Public Law Bulletin which was put forth in the year 2018 and so far, 17 volumes have been successfully published. Also, the Centre for Public law ILS Blog, a Blog Writing initiative was adopted in the year 2020 aimed at promoting Constitutional studies through innovative means.The Centre invites students, faculty, alumni and scholars of our Institution to express their viewson contemporary socio-legal issues in Public Law.
https://ilslaw.edu/public-law-bulletins/
https://ilscentreforpubliclaw.wordpress.com/call-for-blogs-centre-for-public-law-ils-law-college-pune-submission-on-rolling-basis/
We, hence, cordially invite you to attend the introductory session on 20th April at 4 pm to be acquainted with the Centre and all its activities. The session will also comprise an orientation on the basics of Constitutional Law to help develop a foundation and facilitate engagement in various other activities relating to Public Law.
Address by: Dr Sanjay Jain, Associate Professor, Additional Charge Principal, ILS Law College.
Faculty Coordinator, Centre for Public Law.
Introductory Session by Ashok Pandey (IV BA LL.B), and NiharChitre (V BA LL.B)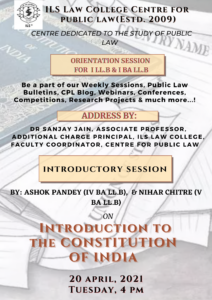 Click on the image to read the poster.